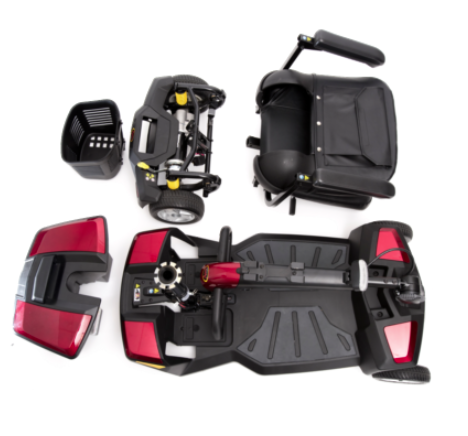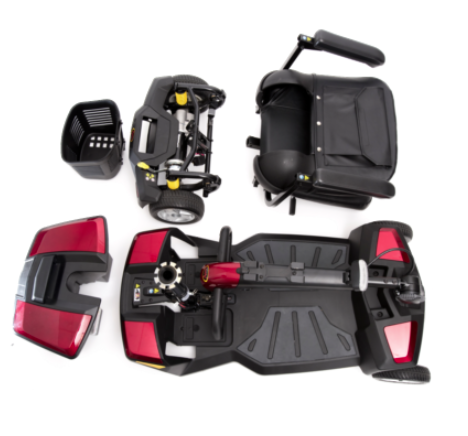 Apex Rapid
Please Contact Us For A Price
Sleek style and luxurious features.
Description
Introducing the first travel mobility scooter from 'Pride® Travel Scooter' range to feature ground breaking all-round suspension, the Apex Rapid with CTS Suspension (Comfort-Trac Suspension) delivers luxury and convenient features like a wraparound delta tiller with a high level charging port, LED kerb light and a storage basket together with a compact, easy to transport design. Sleek styling complements the Apex Rapid's abundant features making it an exceptional travel mobility choice.
Your mobility product contains S-Drive PG Drives Technology TruCharge battery gauge, the following link will be a valuable working tool. The link below will enable Dealers and you to identify the area in which the control system has detected a trip, and in some cases even make repairs.
Specification
Weight Capacity: 21 Stone 6 lbs (136 kg)
Maximum Speed: 4mph (6 km/h)
Ground Clearance: 3.8 cm (1.5") at motor
Overall Length: 104.1 cm (41")
Overall Width: 52.1 cm (20.5")
Turning Radius: 116.2 cm (50.5")
Tyres:
Front: 5 cm x 17.8 cm (2" x 7") solid
Rear: 6.35 cm x 20.3 cm (2.5" x 8") solid
Standard Controls: LED Display
Heaviest piece when disassembled: 16.6 kg (36.6 lbs.) front section
Total weight without batteries: 39.6 kg (87.4.)
Seating: Foldable, compact, vinyl-covered molded plastic
Suspension: Front and rear independent CTS Suspension
Battery Requirements: Two 12-volt, deep cycle (standard)
Size: 2 x 18 AH
Weight: 18 AH: 13 kg (29 lbs.) battery pack